A guide to getting turn-by-turn (TBT) navigation working on the Edge 1000
Intro
I frequently cycle up to and over 100 miles, often in places I've never been before, pre-planning my route to visit particular places, follow the nicest roads/avoid the nasty roads and pass the features I want (cake stops!) when I want. Rather than keep stopping and looking at a map/route-card, I've used a Garmin Edge to follow my desired route for many years with great success.
Though the Edge 1000 is pretty good out-of-the-box, people do struggle with the navigation side of things, so this page details how I have it set up and how I use it for navigating.
This guide is broken down into just 5 steps:
Set up your Edge 1000 – some of the default settings are a bit odd so we'll change them (only needs doing once)
Plan your route
Download your route
Copy your route onto the Edge 1000
Go ride!
After the guide there's some sections covering other relevant information.
Maps
A quick word on maps as they are a fundamental part of turn-by-turn navigation, because that's where the Edge gets the turn-by-turn information from, not from the route file.
Really important that you understand the following: If you don't have a map covering the area you're riding in, you won't get turn-by-turn information. If the map omits/includes features you do/don't expect, then you won't get the results you expect.
The Edge 1000 comes with a pre-loaded map which is based on the Open Street Map (OSM) project. You will get updates to this map via Garmin Express.
So far I've had no issue with the included maps though it's possible to use the old style Garmin City Navigator and OS maps on SD card if you prefer.
You can also use a different "cut" of the OSM maps that you download yourself (see here for a guide on how to get them) should you need an area not covered by the included map, you have issues with it or would rather a map that didn't include cyclepaths (in which case select Generic Routable as the map type).
Initial setup
Some of the default settings on the Edge 1000 are a bit odd/undesirable/wrong so I always make a few changes (this only ever needs doing once).
Select Tools from the main menu, Activity Profiles, a particular activity, Navigation, Map and set the options like so: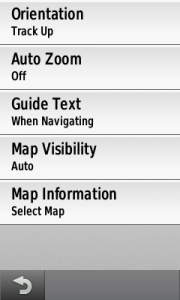 When done, press the back arrow, select Routing and set the options like so: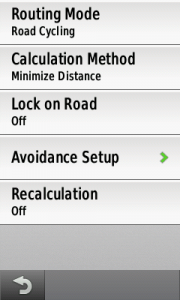 When you get to Avoidance Setup, set the options like so (or as applicable to your bike type):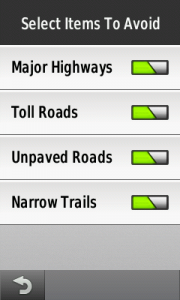 Keep pressing (or press and hold) the back arrow to get out of the menu system.
Obviously this needs repeating for each profile you'll be using turn-by-turn navigation with.
Select Courses from the main menu, then press the three-line icon in the bottom right (note you will need at least one course loaded before this button is enabled) and ensure both Turn Guidance and Off-Course Warnings are enabled.
Plan your route
There are numerous websites out there that allow you to pre-plan a cycle route but for me, RideWithGPS is by far the best so that's what I'll assume you'll be using.
Some tips for route planning (originally written by Uncycle on the Garmin forums):
To avoid the confusing the Edge 1000, always finish a circular route 10-15 metres away from the start
When plotting a route always click in road segments NOT at junctions (to avoid little side stubs when you click a bit inaccurately)
Allow the website's routing algorithm time after each click to complete its routing to that point (avoids odd little loopbacks)
Go round the course at max zoom to check that all is correct
Another little trick that I do is to grab "peg man" and hover him over the route, if my route lights up blue, it means the Google StreetView car went down that part of the road and so there shouldn't be a problem going down it myself. If part of my route doesn't light up blue then I need to ask why did the StreetView car not go down there? Most likely it's an unpaved or private road that Google thinks is navigable when in fact it's not practical and/or legal to do so.
On RideWithGPS you have a choice of maps, selectable from the drop-down in the top right of the menu. If you use one of the OSM or RWGPS ones you will be using the same mapping data as used on the Edge 1000 (subject to version differences) and should therefore get excellent consistency with the turn-by-turn navigation/routing (thus avoiding the issue 1 outlined below).
Download your route
Once you've planned your route on RideWithGPS, use the Export feature to save the route as a GPX Track.
Copy your route onto the Edge 1000
Plug the Edge 1000 into your computer, wait for it to be recognised and then copy the GPX file you exported into the GarminNewFiles folder on the Edge 1000. I use the GarminNewFiles folder on the SD Card as it means that should the Edge 1000 ever do a "reset" during a ride then at least my route is still safe (I started doing this with one of the very early Garmin Edge series that did occasionally reset; I've never experienced it on a recent model but old habits die hard).
Go ride!
Once you've done the above, actually navigating a route is really simple, just select Courses from the menu screen, select the desired course & hit the big green Ride button. This will cause the Edge 1000 to:
Overlay the route on the map page (in purple, you can't change that)
Give you turn-by-turn instructions (bleep & on screen prompt)
Give a bleep and an instruction for every entry in the RideWithGPS cue sheet (if you used the TCX option)
Show a "Recalculate?" message if you stray off the route
Alternative ways of navigating
The above is how I chose to use the Edge 1000 for navigating, but there are alternatives:
Alternative method #1: On the Course Options screen (as described above), have Turn Guidance disabled and Off-Course Warnings enabled. When you hit the big green Ride button in the course, you will get the purple line to follow and get a bleep/warning if you stray off it, but it's up to you to be aware of the turns (typically by leaving the Edge on the map page).
Alternative method #2: On the course details screen select Settings, Map Display and set Always Display to On. This will always show the route on the map screen (in the colour you chose) and you just need to follow the line. You don't ever hit the Ride button and you don't get turn or "off course" warnings.
Quirks/Issues
There are of course some quirks/issues/bugs:
If the maps the Edge 1000 is using don't contain a path that you used when planning your route, it will probably change your route during the "Calculating" phase. This is because turn-by-turn directions are calculated from the on-board maps i.e. the Edge 1000 comes up with a route that matches your GPX as closely as possible using tracks/roads it knows about. So if the Edge map doesn't have a track that your GPX file goes down, then it will reroute you around it. I'm not sure I like that, but Garmin had to make a choice on how to deal with that situation and they chose that method (I'd rather they stuck to the original route but didn't have TBT). The use of the more comprehensive OSM instead of their own maps has all but eliminated the issue for me though.
Sometimes you don't get a turn prompt when you expect one. This is because the map the Edge 1000 is using doesn't know about or understand the junction and isn't a fault with Garmin. Typically this happens when the map thinks a junction has a different layout (different road priorities) to what is marked on the road.
When you hit the Ride button, the Edge 1000 will say "Calculating" from 0 to 100% whilst it works out the turn-by-turn notifications for your route. The speed at which it goes through this process is not consistent (e.g. it may take as longer to get from 30% to 40% than it did to get from 20% to 30%). It may stick on 100% for a short while at the end, especially on longer routes.
Don't forget that the beauty of Garmin using OSM maps is if you suffer from problem 1 or 2 above, you can do something about it by going to OpenStreetMap and making the changes.
Ride WithGPS Premium Users
It's worth noting that RideWithGPS Premium users have two extra features directly relevant to Garmin Edge users:
Garmin Write – this sends a route directly to your Garmin Edge 1000 meaning the Putting a route onto the Edge 1000 section is completely redundant and the whole process is easier/quicker.
If you use the TCX format you can tick the "Notify before turn?" option to get an extra bleep just prior to junctions.
There are lots of other benefits to being a premium user as well as the fact you're supporting a great website run by two great guys so it's worth considering.
Any Questions?
If you've any questions or comments re navigation using the Garmin Edge 1000 then leave a comment below. Please don't ask generic questions about the Edge 1000 or questions not related to the above as unfortunately I've not got time to answer those, use the Garmin Forums instead.